The President of the Republic of Finland: Press Releases and News
News, 12/7/2004
The President's Independence Day reception on 6 December 2004
President of the Republic Tarja Halonen and Dr Pentti Arajärvi held the traditional Independence Day reception at the Presidential Palace on Monday 6 December 2004. As in previous years, invitations had been sent to all members of the Government, Members of Parliament, the Finnish Members of the European Parliament, senior civil servants and members of the diplomatic corps accredited to Finland. Also among the guests were Finns who have distinguished themselves in some way or another and persons whom the President and Dr Arajärvi have met in the course of the past year. All in all the invited guests numbered just under 2,000.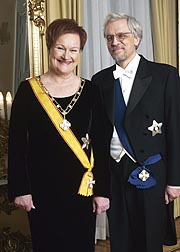 Photo: Lehtikuva
Guests at the reception were served the traditional buffet. This included layer loaves, pies, pasties and other savouries as well as cakes, and biscuits. To drink there were fair trade coffee, organic tea, Palace Punch, wine, beer and soft drinks. The emphasis was on local Finnish food and organic produce. Many of the flowers used to decorate the Palace were from Kultaranta, the President's summer residence.

Music was provided by the Guards Band while the guests were arriving and later for dancing in the main hall. The band was conducted by Lieutenant-Colonel Harri Saksa, Principal Conductor of the Finnish Defence Forces and conductor of the Guards Band, Major Elias Seppälä, and Major Raine Ampuja. The Guards Band Combo ensemble performed in the main hall from 9.45 pm onwards.

As in previous years, there was lighter music from about 9.30 pm onwards in the Yellow Salon on the third floor of the Palace. This year's jazz band was assembled by brothers Verneri and Ilmari Pohjola.
© 2012 Office of the President of the Republic of Finland Mariankatu 2, FI-00170 Helsinki, tel: +358 9 661 133, Fax +358 9 638 247
About this site
webmaster[at]tpk.fi