The President of the Republic of Finland: Press Releases and News
News, 10/20/2004
President Halonen visiting Japan
President of the Republic Tarja Halonen and Dr Pentti Arajärvi made an official visit to Japan on 20-24 October 2004. During the visit President Halonen met the Emperor and Empress of Japan as well as Prime Minister Junichiro Koizumi.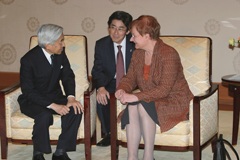 President Halonen discussed with Emperor Akihito of Japan. Photo: Juhani Kandell.
President Halonen attended also a Finnish-Japanese business seminar, gave a talk at United Nations University and visited the city of Kyoto.

President Halonen was accompanied by Minister of Social Affairs and Health Sinikka Mönkäre and Minister for Foreign Trade and Development Paula Lehtomäki. The delegation included also Finnish business leaders and representatives of industrial organizations.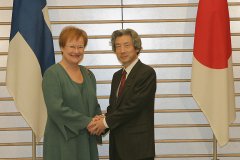 © 2012 Office of the President of the Republic of Finland Mariankatu 2, FI-00170 Helsinki, tel: +358 9 661 133, Fax +358 9 638 247
About this site
webmaster[at]tpk.fi