The President of the Republic of Finland: Press Releases and News
News, 12/29/2004
Statement by President of the Republic Tarja Halonen on the catastrophe in South Asia
The earthquake that hit the coast of Indonesia on 26 December and the subsequent tidal waves have caused incomprehensible destruction and human suffering. So far over 100,000 people are known to have died. The number of injured and homeless is much larger.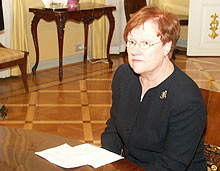 The devastation caused by the catastrophe has affected people around the world, including Finns. According to tour operators about 3,000 Finnish tourists were in the area hit by the catastrophe. Hundreds of other Finns were there independently.

Up to now we have received official confirmation that four Finns have died. Considering the extent of the catastrophe we must be prepared for the number of Finnish victims to rise.

My sympathies go to all those who have suffered in the catastrophe and my deepest condolences to those who have lost loved ones. I also share the concern of those who are waiting to learn the fate of loved ones. You are not alone. Your grief and concern are shared by us all.

Aid work in the disaster area began immediately and is still going on. The Finnish Government decided quickly to evacuate Finns from the area. Local residents, surviving tourists, organizations, tour operators and public authorities have worked together to help people in distress as well as possible in difficult circumstances. I want to express my thanks and support to all those who have helped. I will continue to follow the situation in close cooperation with the Government and public authorities.

Finland is grieving. Loved ones touched by the catastrophe will need our support in the days to come. Let us help them in a spirit of togetherness.

The countries hit by the earthquake and tidal waves and the people who live there also need our compassion and aid. In many areas life will have to be rebuilt from scratch. This can only succeed through cooperation. Let us be prepared to help.
© 2012 Office of the President of the Republic of Finland Mariankatu 2, FI-00170 Helsinki, tel: +358 9 661 133, Fax +358 9 638 247
About this site
webmaster[at]tpk.fi