Governor General of New Zealand visited Finland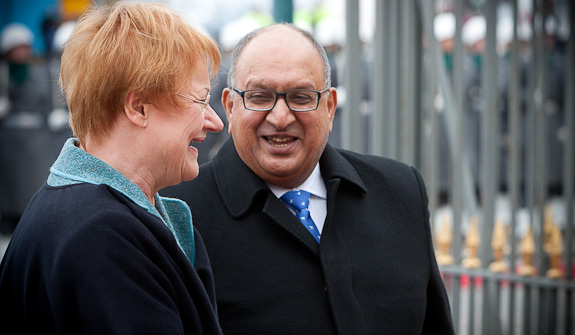 Copyright © Office of the President of the Republic of Finland
Governor General of New Zealand Anand Satyanand and spouse made an official visit to Finland on 2–5 May 2011. The reception ceremony and official talks with President of the Republic Tarja Halonen took place at the Presidential Palace on Tuesday, 3 May.
At the press conference for the visit President Halonen and Governor General Satyanand drew comparisons between Finland and New Zealand. "Our two countries are about as far away from each other as it is possible to be, but we have many, many similarities: our population size, our common values," Governor General Satyanand said, pointing out that during the last 50 or 60 years the two countries have also worked closely together on multilateral cooperation within the UN.
President Halonen said that Finland and New Zealand share similar views in several sectors of international politics, both countries being advocates of equality, not only between genders, but also in different areas of society. The President also highlighted crisis management and environmental issues.
The two countries, however, did engage in hard competition in the early 20th century, President Halonen recalled, not on the rugby field, but over whether New Zealand or Finland was to be the first country in the world to give women the right to vote.
During his visit Governor General Satyanand also met the Speaker of Parliament and the Parliamentary Ombudsman. The programme included a visit to the Supreme Court and to various cultural sights in Helsinki.
President Halonen made a state visit to New Zealand in February 2007.
Photos