Finland orchestrating an unparalleled joint effort to save the Baltic Sea
The Office Of The President Of The Republic Of Finland
Government Communications Unit
Baltic Sea Action Group
Press Release 4.2.2010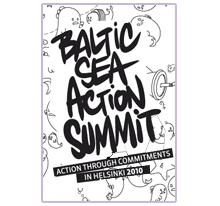 The Baltic Sea Action Summit (BSAS) to be held in Helsinki at Finlandia Hall on 10 February will present more than 130 Baltic Sea commitments made so far. Concrete commitments have been made by private sector companies of various size, and actors representing the public and third sectors. The heads of state or government participating in the Summit will also make their own commitments contributing to the recovery of the Baltic Sea.
Commitments have been made in all countries surrounding the Baltic Sea and there are commitments that relate to each problem area defined by the Baltic Marine Environment Protection Commission HELCOM. Some commitments contribute directly to the state of the sea while others advance the work being carried out for the good of the Baltic Sea. The commitments are concrete and new, and the Baltic Sea Action Group (BSAG) will monitor their fulfilment.
The Summit will be hosted by the initiators of the project: President of the Republic Tarja Halonen, Prime Minister Matti Vanhanen and Chairman of the Board of BSAG Ilkka Herlin.
Seven heads of state or government will participate in the Summit: the King of Sweden, His Majesty Carl XVI Gustaf, the President of Latvia Valdis Zatlers, the President of Lithuania Dalia Grybauskaite, Russian Prime Minister Vladimir Putin, Estonian Prime Minister Andrus Ansip, Norwegian Prime Minister Jens Stoltenberg and Danish Prime Minister Lars Løkke Rasmussen.
In addition, Germany's Federal Minister of Food, Agriculture and Consumer Protection Ilse Aigner, Poland's Deputy Prime Minister and Minister of Economy Waldemar Pawlak, Regional Policy Commissioner Johannes Hahn of the European Commission and Belarusian Deputy Minister of Natural Resources and Environmental Protection Vitali Kulik have confirmed their participation.
Commitments have been made by, for example, Siemens, Wärtsilä, Det Norske Veritas, Vodokanal of St Petersburg, Swedish Shipowners' Association, Copenhagen Malmö Port AB, Reval Hotels, Finnish Tax Administration, Martha Organization, IBM, and Bain & Company Nordic.
"In order to solve each and every problem, we need to join all efforts: the highest political support, the knowledge of companies and the activeness of citizens. This is the only way to speed up the path towards concrete action", says Ilkka Herlin, Chairman of the Board of BSAG, one of the hosts of the Summit.