Presidential Forum focused on culture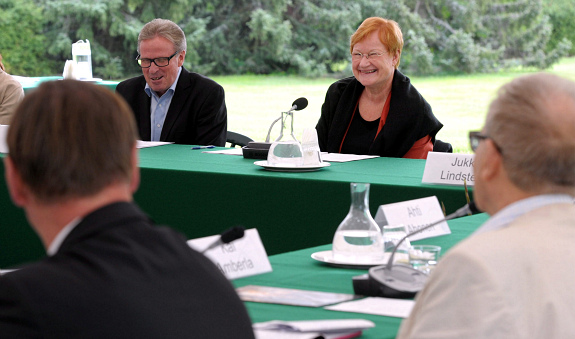 Presidential Forum was organised at Kultaranta, the summer residence of the President of the Republic. Photo: STT-Lehtikuva
The 18th Presidential Forum was organised at Kultaranta on Thursday, 11 August under the heading "Culture for All". The panellists discussed culture in the broad sense, both as a social phenomenon and source of well-being, and in terms of multiculturalism.
"Culture is for everyone: it should be available to all, regardless of place of residence, wealth and other such factors," President Halonen pointed out in her opening speech.
The President emphasised the importance of taking children and young people into consideration. "They have a particular need for art and culture to be part of their life development, especially for the development of their knowledge, skills and emotions. Those who take an interest in culture at an early age are more likely to do so as adults." President Halonen was pleased that the new Government referred in its programme to its desire to strengthen the teaching of practical and arts subjects in Finland's schools.
President Halonen also stressed that culture has an increasingly international and multicultural dimension. "By tradition we have strong minority cultures in Finland and are now also seeing the constant strengthening of immigrant cultures. Our time is characterised by increasing European and international integration. This, however, is not to say that we should not continue to appreciate our own culture," she pointed out.
In addition to the President of the Republic, invited speakers included Jukka Gustafsson, Minister of Education and Science, and Hanna-Liisa Liikanen, Doctor of Political Sciences. Participants from different areas of culture, including artists and representatives of various cultural events and venues, had been invited to the forum.
This was the first time the Presidential Forum was organised at Kultaranta, the summer residence of the President of the Republic.
The debate can be viewed in its entirety as a video recording.
Presidential Forums have been arranged since 2006. Themes on previous occasions have included Finnish labour competitiveness, expertise and innovations, foreign policy, care for the elderly, the Baltic Sea, tolerance, municipal services, the "silent years" in Finnish history, Finland in the face of change, fundamental and human rights, jobs and unemployment, climate change, family violence, globalisation and the UN Millennium Development Goals, peacekeeping and crisis management, the Arctic region, and sustainable development.