Presidential Forum looked at the state of Europe and the world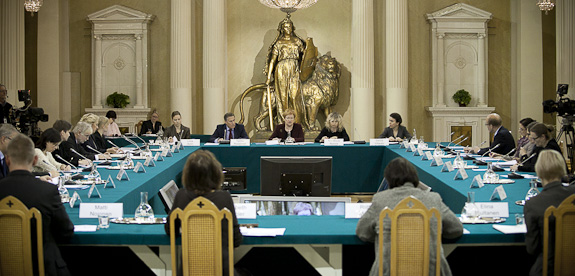 Copyright © Office of the President of the Republic
President of the Republic Tarja Halonen brought together key opinion-makers to discuss the current state of Europe and the world. The participants of the Presidential Forum on Thursday, 24 November included Minister of Finance Jutta Urpilainen, Minister for Foreign Affairs Erkki Tuomioja, Minister for International Development Heidi Hautala and Vice-President of the European Commission Olli Rehn.
The theme of the 19th Presidential Forum was "Finland in Europe – Europe in the World". In addition to political leaders, invitations were issued to representatives of business life, non-governmental organisations and research institutes.
The event was chaired by journalist Tarmo Ropponen. The Finnish Broadcasting Company (YLE) webcasted the Presidential Forum live, with highlights on TV1.
Presidential Forums have been arranged since 2006 at the initiative of President Halonen. Themes on previous occasions have included Finnish labour competitiveness, expertise and innovations, foreign policy, care for the elderly, the Baltic Sea, tolerance, municipal services, the "silent years" in Finnish history, Finland in the face of change, fundamental and human rights, jobs and unemployment, climate change, family violence, globalisation and the UN Millennium Development Goals, peacekeeping and crisis management, the Arctic region, sustainable development, and culture.