The President of the Republic of Finland: Press Releases and News
News, 2/14/2011
Baltic Sea Commitments evaluated – the process continues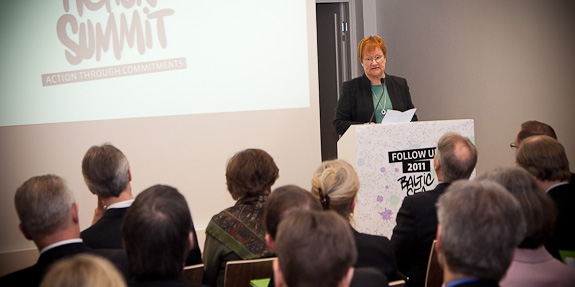 President Halonen brought good news to the event: Russia promised to host Baltic Sea conference in 2012. Copyright © Office of the President of the Republic of Finland
President of the Republic of Finland Tarja Halonen attended the Baltic Sea at the Commitment Follow-up event in Helsinki on 10 February 2011. The event was organised on the first anniversary of the Baltic Sea Action Summit. In her opening speech, President Halonen brought good news: Russia had promised to host Baltic Sea conference in 2012. President Halonen learned of Russia's intentions yesterday during a telephone conversation with Prime Minister of the Russian Federation Vladimir Putin on Wednesday , 9 February 2011.
One year ago, the public and private sectors together with the NGOs combined their efforts for the Baltic Sea. President of the Republic Tarja Halonen was one of the initiators of the successful Baltic Sea Action Summit, together with then Prime Minister Matti Vanhanen and Ilkka Herlin, Chairman of the Board of the Baltic Sea Action Group.
The BSAS process continues, as there are more than 160 commitments made, of which twelve percent are completed and over 70 percent are progressing. At the follow-up meeting, the progress of commitments was presented by Baltic Sea countries' ambassadors and NGO leaders.
Photos
© 2012 Office of the President of the Republic of Finland Mariankatu 2, FI-00170 Helsinki, tel: +358 9 661 133, Fax +358 9 638 247
About this site
webmaster[at]tpk.fi