The President of the Republic of Finland: Press Releases and News
News, 12/15/2004
President Halonen met president Putin in St Petersburg
President of the Republic of Finland Tarja Halonen met President of Russian Federation Vladimir Putin in St Petersburg on Tuesday, 14 December 2004. The presidents discussed the bilateral relations between Finland and Russia as well as the relations between EU and Russia.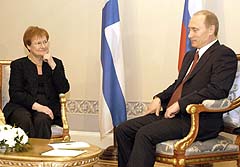 Photo: Lehtikuva / Reuters
In a joint press conference after the discussions the both presidents stated that the relations between the countries are on a good ground.

President Halonen travelled directly from St Petersburg to Strasbourg, France to the opening of the European Roma and Travellers Forum.

From Strasbourg President Halonen will go to Bosnia and Kosovo on 15-16 December, where she will inspect crisis management and peacekeeping activities and meet Finnish peacekeepers serving in the region. In Pristina, the capital of Kosovo, she will also meet UN Special Representative Soren Jessen-Petersen and KFOR Commander Yves de Kermabon.
© 2012 Office of the President of the Republic of Finland Mariankatu 2, FI-00170 Helsinki, tel: +358 9 661 133, Fax +358 9 638 247
About this site
webmaster[at]tpk.fi