Protecting the Baltic Sea and business relations the theme of St. Petersburg visit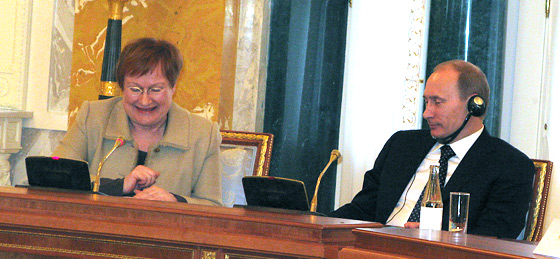 President Tarja Halonen and Prime Minister Vladimir Putin met with Finnish business leaders at the Konstantinov Palace in St. Petersburg. Copyright © Office of the President of the Republic
President of the Republic Tarja Halonen visited St. Petersburg on 23 March 2010 and participated in a roundtable on cooperation in the Baltic Sea region that was arranged by Governor Valentina Matviyenko. The roundtable followed the Baltic Sea Action Summit, which took place in Helsinki on 10 February 2010.
In the afternoon President Halonen and Russian Prime Minister Vladimir Putin met with Finnish business leaders at the Konstantinov Palace in St. Petersburg.
Baltic Sea Action Summit a good model
"The Baltic Sea is our common sea and improving its status is our common business," President Halonen said in her opening speech. She shared experiences from the Baltic Sea Action Summit that was arranged in Helsinki in February, which exceeded expectations. The new type of meeting was meant to achieve concrete commitments rather than new agreements - these already exist. "Another new thing at the Helsinki summit was the way we worked: the guiding idea was cooperation between the public and private sectors and NGOs."
"We also considered it important for cities to be involved in this work. In many ways St. Petersburg is a pioneer in work to protect the Baltic Sea and is a familiar and good cooperation partner. Hopefully you will serve as an encouraging example for us," President Halonen said.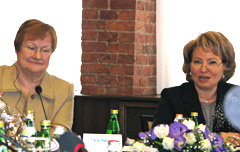 President Halonen and Governor of St. Petersburg Valentina Matvienko
According to President Halonen, progress has been made in many areas, but cooperation can still be stepped up especially to reduce the load of nutrients from agriculture and to achieve safe maritime traffic.
"A closer connection needs to be built between the GOFREP ship reporting system and other arrangements in use in the Baltic Sea so that the safety of shipping can be improved in the entire Baltic Sea. Oil transports together with the general increase in maritime traffic present a constant risk of accidents in the Baltic Sea."
St. Petersburg an important partner
"We Finns want to achieve a vision of a clean Baltic Sea and a successful economic area in the Baltic Sea region. St. Petersburg and our neighbouring area are close and important partners for us in this work," President Halonen noted.
The roundtable devoted focused attention on wastewater treatment in St. Petersburg and particularly the construction of a northern trunk sewer, which is one of the city's major projects. Russian experts spoke on topics such as responding to oil spills in winter, the special position of Lake Ladoga as a source of drinking water for St. Petersburg and the protection of the lake, and the establishment of nature reserves in the St. Petersburg area.
Mayor Jussi Pajunen said that the City of Helsinki was interested in investigating the use of biogas together with St. Petersburg. Ambassador for Baltic Sea Issues Jari Luoto told more about the Baltic Sea Action Summit in Helsinki. He also emphasized the EU's Northern Dimension, which has proved valuable in environmental programmes, among other things.
In addition to Governor Matviyenko, the roundtable included Vice Governor Alexander Vakhmistrov, General Director Felix Karmazinov of the St. Petersburg water company (Vodokanal) and various Finnish and Russian experts.
President Halonen and Prime Minister Putin met with Finnish business leaders
In the afternoon President Halonen and Prime Minister Putin took part in a meeting with Finnish business leaders at the Konstantinov Palace in St. Petersburg. Prime Minister Putin began the meeting by informing President Halonen that the Torfyanovka border crossing would be opened for car imports.
Prime Minister Putin noted that inflows of capital from abroad reached about 45 billion dollars last year. He hoped that Finnish companies would play a leading role as investors. In his opening remarks Prime Minister Putin mentioned several possible areas of cooperation. He also emphasized Russia's expertise in constructing nuclear power plants and suggested that thought should be given to the establishment of a Russian-Finnish Business Council, in which businesses and the state could be represented.
In her opening remarks at the meeting, President Tarja Halonen pointed out that Finnish companies' investments in Russia totalled nearly 6 billion euros and that companies have not withdrawn despite the international financial crisis. "Finnish companies' activities appear to be based on long-term objectives and commitment," she said. She was also glad to note that contacts at the level of people have remained lively. Last year Finnish missions granted about 740,000 visas in Russia. "Logistics between our country are important," President Halonen said and promised that as soon as high-speed trains start running between Finland and Russia, she will try to get a ticket.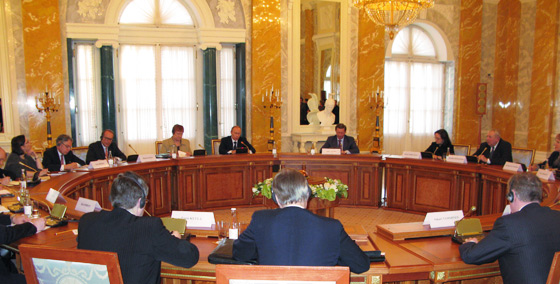 President Halonen and Prime Minister Putin met with Finnish business leaders at the Konstantinov Palace in St. Petersburg. Copyright © Office of the President of the Republic