President Halonen in New Year Speech: Economic challenges highlight the importance of social responsibility
According to President of the Republic of Finland Tarja Halonen, the importance of social responsibility is highlighted by the challenges of the international economic crisis. "Sufficient attention must be paid in time to employment. We must take action to prevent the consequences of the slowdown in economic development coming down most heavily on people who are in the weakest position", President Halonen said in her New Year Speech on Thursday, 1 January 2009. An active economic policy needs to be supported by effective education, employment and social policies. President Halonen noted that we have many reasons for investing in education and lifelong learning. President Halonen is concerned about violence in Finnish society. "Homicide is mainly violence between men, but also dozens of women lose their lives every year to family-related violence", she said. There is no miraculous means of eliminating violence, but adequate mental health services, preventive social work and intervening in bullying at school are joint contributions, which can make a difference.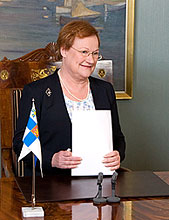 Copyright © Office of the President of the Republic of Finland
One year ago, President Halonen and Prime Minister Vanhanen wrote a letter to all the heads of state and governments of the countries bordering on the Baltic, inviting and encouraging them to cooperate in order to improve the state of the Sea. According to President Halonen, the response to their initiative has been very positive. "We will need to seriously consider our way of living and our every-day choices – and be prepared to make changes", President Halonen said. "Many good projects are already under way. Public and private partnerships, cross-sector and cross-border networks have been created around the region".

In her New Year Speech, President Halonen opened a national year of commemoration celebrating the year 1809. This year will be the two hundredth since Finland achieved autonomy and its own central administration. Finland's state connection with Sweden of more than six hundred years was broken and Finland became a Grand Duchy in the Russian Empire. "Together with a long period of peace these events created the conditions for building our society and, in the end, independence for our country".

In the global scale, Finland is still a good country to live in, President Halonen reminded at the end of her speech. "We face challenging times, but together and with cooperation we will come through. An integrated society both economically and socially has been our strength in the past and our future must be built on it".