The President of the Republic of Finland: Press Releases and News
News, 12/19/2008
Nobel Peace Prize was celebrated at the Presidential Palace
President of the Republic Tarja Halonen hosted a dinner in honour of President Martti Ahtisaari's Nobel Peace Prize at the Presidential Palace on Thursday, 18 December 2008. "You have, through your own contribution and personal capabilities, helped build a better and fairer world", President Halonen said in her speech to President Ahtisaari. "The Nobel Peace Prize is without doubt this field's most prestigious international honour, and I do not believe I am exaggerating when saying that the whole of Finland is proud of this recognition".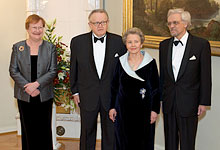 President Halonen, President Ahtisaari, Mrs. Eeva Ahtisaari and Doctor Pentti Arajärvi. Copyright © Office of the President of the Republic of Finland
Peace work is cooperation, but President Halonen emphasized that the Nobel Prize is a honour for President Martti Ahtisaari, personally. A pioneering work for many decades to resolve long-lasting and difficult conflicts was given a well-deserved recognition.
Around 160 people were invited to the dinner, including political leaders, high-level officials and prominent figures in science, culture, the media and civil society in Finland, as well as President Ahtisaari's cooperation partners. Soprano Ritva-Liisa Korhonen and pianist Erkki Korhonen performed at the occasion.
© 2012 Office of the President of the Republic of Finland Mariankatu 2, FI-00170 Helsinki, tel: +358 9 661 133, Fax +358 9 638 247
About this site
webmaster[at]tpk.fi