President Halonen in her New Year's speech: The growth of inequality is not a force of nature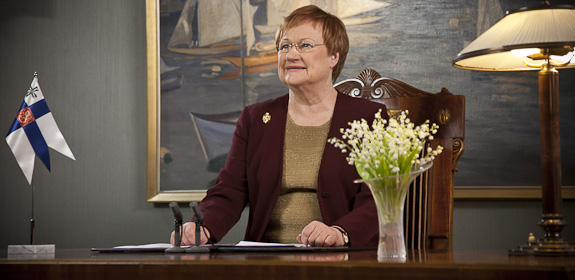 Copyright © Office of the President of the Republic of Finland
"The growth of inequality is not a force of nature. It can be fought back," said President of the Republic Tarja Halonen in her New Year's speech on Sunday 1 January 2012. "It is all about political will and skill of execution."
President Halonen noted that with our Nordic welfare society we can ensure that people are treated equally and can also remain competitive globally. "Equality and solidarity are key values in our society. Abiding by them is what makes us a nation."
UN-led peacekeeping must be increased
Peacekeeping, civilian crisis management and peace mediation are good ways of influencing the security of Finland and of the world, according to President Halonen.
"Finland has a long history of participating in UN peacekeeping missions. UN-led peacekeeping must be increased. The decision to send Finnish peacekeepers to Lebanon again is a step in the right direction," she said. "Finland's candidacy for rotating membership of the UN Security Council is a logical consequence of Finland wishing to be a doer rather than an observer."
We need a broad-based concept of security alongside our traditional defence system. These crises often stem from poverty, inequality and infringements of human rights. "We must stand up for human rights and democracy. This will also improve security, both at home and abroad. Such efforts require a long-term approach: while toppling a dictator may be the work of a moment, building a new and democratic society takes a long time."
A new trinity
Economic growth without social justice does not increase wellbeing, said President Halonen. "We need a 'new trinity': economic growth which is distributed according to social justice and which the environment can withstand."
The UN Millennium Goals are prerequisites for sustainable development; they will not be attained without the actions of democratic, strong and efficient governments. Finland has much to gain, and we have creative expertise in areas such as clean technology and the environment business, said President Halonen. "These are strengths that help us establish partnerships, for which the demand will continue to increase as the international community embarks more determinedly on the road to sustainable development."
We are all needed
"Defending Finland and the common interests of the Finnish people needs each and every one of us. We need tolerance to understand each other and co-operation to overcome the problems we face. A lot of good things have already happened, for instance regarding gender equality and the rights of minorities.
"On behalf of myself and my spouse, I would like to thank you all for your cordial support and your many communications over the past 12 years. Your interest in promoting our common affairs has been extremely important."