The President of the Republic of Finland: Position and Duties: Decorations
The Order of the Cross of Liberty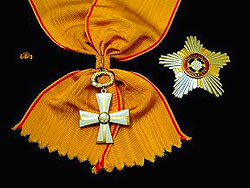 The Order of the Cross of Liberty
The Order of the Cross of Liberty was founded on March 4, 1918, upon the initiative of General C.G. Mannerheim. The renowned Finnish artist Akseli Gallen-Kallela was commissioned to design the Order's insignia. Once Mannerheim had approved the drawings, the first decorations were ordered, on April 15, 1918.
At first there were seven classes: grand cross, cross of liberty (1st to 4th class) and the medal of liberty (1st and 2nd class). The decorations of the Order of the Cross of Liberty were initially conferred only in time of war. But to safeguard the operations of the Order after the war, a decree was issued on August 18, 1944 enabling the decorations to be awarded also in peace time.
The Cross of Liberty has a red ribbon when it is granted in war time and a yellow ribbon when it is awarded in time of peace.
The classes of the Order of the Cross of Liberty are:
Grand Cross of the Order of the Cross of Liberty
Cross of Liberty, 1st Class with star, of the Order of the Cross of Liberty
Cross of Liberty, 1st Class, of the Order of the Cross of Liberty
Cross of Liberty, 2nd Class, of the Order of the Cross of Liberty
Cross of Liberty, 3rd Class, of the Order of the Cross of Liberty
Cross of Liberty, 4th Class, of the Order of the Cross of Liberty
Medal of Liberty, 1st Class, of the Order of the Cross of Liberty
Medal of Liberty, 2nd Class, of the Order of the Cross of Liberty
Medal of Merit, 1st Class, of the Order of the Cross of Liberty
Medal of Merit, 2nd Class, of the Order of the Cross of Liberty
© 2012 Office of the President of the Republic of Finland Mariankatu 2, FI-00170 Helsinki, tel: +358 9 661 133, Fax +358 9 638 247
About this site
webmaster[at]tpk.fi