President Halonen to St. Petersburg on the maiden departure of Allegro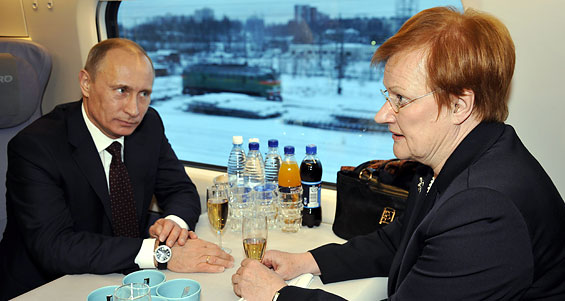 President Tarja Halonen and Prime Minister Vladimir Putin holding talks during the train journey to St. Petersburg. Photo: Lehtikuva
President of the Republic Tarja Halonen and Dr Pentti Arajärvi participated in the opening ceremony on Sunday, 12 December for the Allegro high-speed train service between Helsinki and St. Petersburg, before embarking on the maiden departure. President Halonen met Russian Prime Minister Vladimir Putin at Vyborg station. After attending the photograph exhibition on the high-speed train project on display in the passenger hall, they continued the journey to St. Petersburg together.
The Allegro arrived in St. Petersburg in the afternoon as scheduled. After a short tour of the station President Halonen and Prime Minister Putin continued their talks over dinner.
Opening festivities in Helsinki
The festivities began at the Finnish National Theatre in Helsinki on Sunday morning, after which the opening ceremony was held at the Central Railway Station. President Halonen declared the Allegro high-speed train service open by cutting the ribbon together with VR-Group President and CEO Mikael Aro and Russian Railways President Vladimir Yakunin.
"Flexible travel opportunities are an important prerequisite for creating contacts and interaction. The high-speed train service opened today significantly improves the opportunities for people to meet each other," the President said in her speech at the National Theatre. She hoped that the high-speed train would help Finns to discover their neighbour in a new way.
An ecological alternative
"The high-speed train connection has required both Finland and Russia to make considerable investments in railway networks, to develop smoother border and customs inspections which can take place aboard a moving train and to acquire new high-speed rolling stock."
"I see the train as an ecological travel alternative of the future. The concern over the state of the environment and climate change has already persuaded many people to favour the train as a means of travel. Taking you from city centre to city centre, the train connection is also a practical choice," President Halonen said.
On Monday President Halonen will meet Valentina Matviyenko, the Governor of St. Petersburg, and visit the Finnish Institute. President Halonen and Dr Arajärvi are to return to Finland on Monday.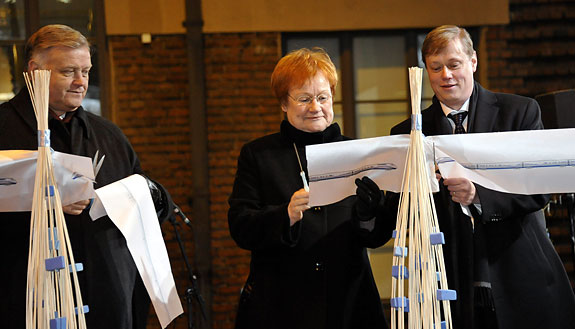 President Halonen cut the ribbon together with Russian Railways President Vladimir Yakunin (left) and VR-Group President and CEO Mikael Aro (right) at the Central Railway Station in Helsinki. Photo: Lehtikuva
Photos