The President's Independence Day Reception on 6 December 2005
President of the Republic of Finland Tarja Halonen and Dr Pentti Arajärvi held the traditional Independence Day reception at the Presidential Palace on Tuesday 6 December 2005.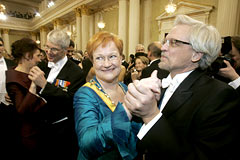 President Halonen and doctor Arajärvi dancing in the State Hall. Photo: Lehtikuva
This year's guests

As in previous years, invitations had been sent to all members of the Government, Members of Parliament, the Finnish Members of the European Parliament, senior civil servants and members of the diplomatic corps accredited to Finland.

Also among the guests were Finns who have distinguished themselves in some way or another and persons whom the President and Dr Arajärvi have met in the course of the past year.

This year invitations had also been sent to people providing home care for the elderly, people who as children were evacuated to Sweden during the Second World War, and people who have participated in civilian crisis management and rescue operations. In culture and the arts the Year of Design and numerous premieres of Finnish plays were visible. About 1,800 guests had been invited in all.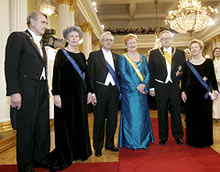 President Mauno Koivisto, Mrs Tellervo Koivisto, Doctor Pentti Arajärvi, President of the Republic of Finland Tarja Halonen, President Martti Ahtisaari and Mrs Eeva Ahtisaari. Photo: Lehtikuva
Service and decorations

Guests at the reception were served the traditional buffet. This included layer loaves, pies, pasties and other savouries as well as cakes, and biscuits. To drink there were fair trade coffee, organic tea, Palace Punch, wine, beer and soft drinks. The emphasis was on local Finnish food and organic produce.

Many of the flowers used to decorate the Palace were from Kultaranta, the President's summer residence, and flowers' theme colours this year were white and gold.
Evening's program

Background music during the hand-shaking ceremony and later on dance music in the State Hall was played by the Guards' Band, conductors Elias Seppälä and Raine Ampuja. The band's Combo ensemble also performed in the State Hall with Heikki Mäntyniemi as vocal soloist. Dance music particularly featured pieces by Toivo Kärki and Olavi Virta, since this year marks the 90th anniversary of their birth.

As in previous years, there was lighter music in the Yellow Salon on the third floor of the Palace. This year music was provided by The Five Corners Quintet, which is made up of outstanding young jazz musicians.
Photos from the President's Independence Day reception
History of the Independence Day reception at the Presidential Palace