The President of the Republic of Finland: Press Releases and News
News, 10/12/2005
President Halonen on state visit to Slovenia
President of the Republic Tarja Halonen and Dr Pentti Arajärvi made a state visit to Slovenia from 10 to 12 October 2005. The official reception ceremonies and the talks between President Halonen and President Janez Drnovšek were held in Ljubljana on Tuesday 11 October.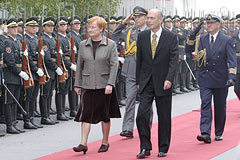 The official reception ceremonies in Ljubljana.
The Presidents discussed the bilateral relations between Slovenia and Finland, current issues concerning the European Union as well as the situation in the Balkans.

During the visit President Halonen also met Prime Minister Janez Janša and Chairman of the National Assembly France Cukjati. She also gave a lecture at the University of Ljubljana. The state visit included sightseeing in Ljubljana and trip to Postojna caves as well as cultural programme. Minister of Culture Tanja Karpela accompanied President Halonen.

President Drnovšek made a state visit to Finland in February 2004.
Speech by President of the Republic of Finland Tarja Halonen at the University of Ljubljana
Speech by President of the Republic of Finland Tarja Halonen at an official dinner
© 2012 Office of the President of the Republic of Finland Mariankatu 2, FI-00170 Helsinki, tel: +358 9 661 133, Fax +358 9 638 247
About this site
webmaster[at]tpk.fi