New Year's Speech: A time for looking into the future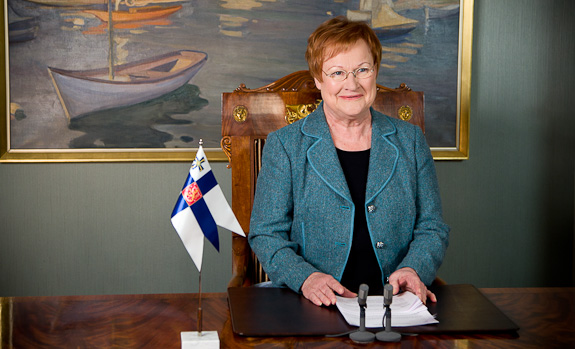 Copyright © Office of the President of the Republic of Finland
"A good reputation in a globalising world is an excellent goal as such, but what is far more important is how Finns view their own country and in which direction they want it to go in the future. This year is an election year, which further improves our chances of influencing this", President of the Republic of Finland Tarja Halonen said in her New Year's Speech on Saturday 1, December 2011.
Finland is a good country to live in, but the development is in many respects worrying, the President said. "The cornerstone of the strength and international success of the Finnish and Nordic society has been equality. According to a recent survey Finns continue to have high regard for values such as justice, caring for the elderly, the prevention of poverty and a functional democracy."
The President said that over the years she has repeatedly spoken of the crumbling of the foundation of the Finnish welfare society. " Politics is about making choices. Choices lead to various social consequences. I hope the approaching elections will spur debate on these issues", she said.
Intolerance is not a solution to problems
President Halonen paid attention to the public opinion that has shifted towards increasingly radical views both in Finland and elsewhere. "The Member States of the European Union are closely integrated. Thus the economic policy and good governance practised in each country affect not only the citizens of the country in question, but also the other Member States and their citizens. "
In her speech President Halonen said also, that according to a survey the great majority of Finns wish for Finland to remain militarily non-aligned. "According to the same survey the most important factor affecting Finland's credible defence capability is good relations with the neighbouring countries. I share the view of the majority of Finns on the fundamental factors of security."
"Good relations with our neighbours continue to be of paramount importance for us. For my own part, I have done my best to create a good and active cooperation relationship with all our neighbours, and I can sincerely say that relations are excellent."
According to the President, the NATO Partnership for Peace programme is suitable from the perspective of our security needs. However, NATO and the European Union should develop their cooperation in this area to eliminate overlaps and increase efficiency.
The number of Finnish peacekeepers on duty around the world is now smaller than it has been for some years, the President noted. "In the modern age it is important to take all aspects of society into consideration both in times of war and peace. I am pleased that the role of women enjoys increasing attention throughout the world, whether the question is of conflict resolution or the achievement of sustainable development. We have a great deal to offer in this respect, also in the context of international cooperation."