The President's Independence Day Reception on 6 December 2010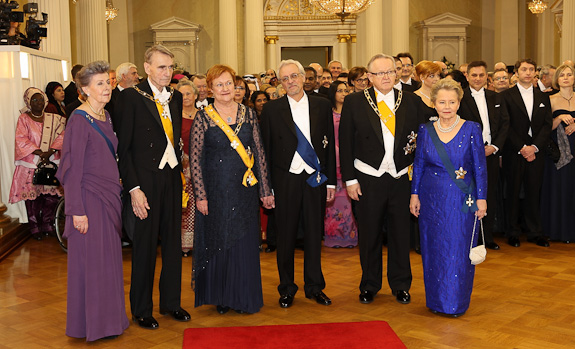 Mrs. Tellervo Koivisto, president Mauno Koivisto, president Tarja Halonen, Doctor Pentti Arajärvi, president Martti Ahtisaari and Mrs. Eeva Ahtisaari.
President of the Republic Tarja Halonen and Dr Pentti Arajärvi hosted the traditional Independence Day Reception at the Presidential Palace on Monday, 6 December 2010.
As in previous years, invitations had been sent to all the members of the Government, Members of Parliament and Finnish Members of the European Parliament as well as senior civil servants and the diplomatic corps accredited to Finland. Other guests included Finns who have distinguished themselves in one way or another and people whom the President and Dr Arajärvi had met during the past year. Around 1,800 guests have been invited in all.
The traditional buffet served to the guests included light refreshments, such as layer loaves and other savouries, as well as pastries and cakes. Drinks included fair trade organic coffee and tea, Palace Punch, wine, beer and soft drinks.
Some 150 flower arrangements graced the Palace, with blue and white the main colours. Some of the flowers had been grown at Kultaranta, the President's summer residence.
In honour of the centennial of folk musician Konsta Jylhä, the ball of the Independence Day Reception begun with the waltz Konstan parempi valssi. Background music during the hand-shaking ceremony and dance music later on in the State Hall was provided by the Guards' Band under the direction of the Chief Conductor of the Finnish Defence Forces, Lieutenant Colonel Elias Seppälä, and the Head of the Guards' Band, Major Raine Ampuja. The Guards' Band Combo was directed by Captain Sami Hannula, with Johanna Försti as vocal soloist.
As in the past few years, the Yellow Salon on the third floor of the Palace was reserved for jazz music. This year's performers were put together specifically for the occasion, with Emma Salokoski (vocals), Jukkis Uotila (drums), Janne Murto (saxophone and flute), Pekka Sarmanto (bass) and Jukka Linkola (piano).
Pictures