The President of the Republic of Finland: Press Releases and News
News, 11/8/2005
President of Macedonia on working trip to Finland
President of Macedonia Branko Crvenkovski was on a working visit to Finland on 7-9 November 2005. President of the Republic of Finland Tarja Halonen received President Crvenkovski in the Presidential Palace on Tuesday on 8 November.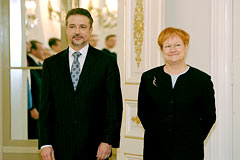 The Presidents of Macedonia and Finland in the Hall of Mirrors in the Presidential Palace.
During the meeting the Presidents discussed Macedonia's EU membership process and the future of Kosovo.

President Crvenkovski also met Prime Minister Matti Vanhanen and Speaker of the Parliament Paavo Lipponen, and visited Jyväskylä, where he gave Martti Ahtisaari lecture and visited the University of Jyväskylä.
© 2012 Office of the President of the Republic of Finland Mariankatu 2, FI-00170 Helsinki, tel: +358 9 661 133, Fax +358 9 638 247
About this site
webmaster[at]tpk.fi