The President of the Republic of Finland: Baltic Sea
News, 12/1/2008
President Halonen honoured with the Baltic Development Forum's Baltic Sea Award
Office of the President of the Republic of Finland Press Release 1 December 2008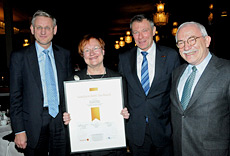 From left: Foreign Minister of Sweden Carl Bildt, President Halonen, Exec. Chairman of Swedbank Carl Eric Stålberg and
Chairman of Baltic Development Forum Uffe Ellemann-Jensen. Photo: Hasse Ferrold
President of the Republic Tarja Halonen has been honoured with the Baltic Sea Award of the Baltic Development Forum. President Halonen received the prize on Monday evening on 1 December, 2008 in Malmö, Sweden. "The Baltic Sea Region needs fiery spirits, individuals who believe that they through a personal and lifelong commitment can make this Region stronger, better and sustainable", said the CEO of Swedbank Jan Lidén when handing over the award.

In the rationale of the Award, President Halonen was praised for her longstanding record of focusing on the common good for the Baltic Sea Region. The jury thanked President Halonen and Prime Minister Vanhanen's letter to the heads of state and heads of government of the countries bordering the Baltic Sea in the beginning of this year. In the letter, they drew attention to the state of the Baltic Sea and invited countries to join in cooperation.

The Award is assigned for extraordinary contributions to the development of the Baltic Sea Region and it was handed out the second time.

President Halonen spoke at an evening session on protecting the Baltic Sea and regional economic and cultural cooperation.

The Baltic Development Forum is a cooperation network bringing together cities, companies, investors and business associations in the Baltic Sea Region. It is chaired by Uffe Ellemann-Jensen, former Minister for Foreign Affairs of Denmark.
© 2012 Office of the President of the Republic of Finland Mariankatu 2, FI-00170 Helsinki, tel: +358 9 661 133, Fax +358 9 638 247
About this site
webmaster[at]tpk.fi