President Halonen inspects minelayer vessel Pohjanmaa before its departure for Operation Atalanta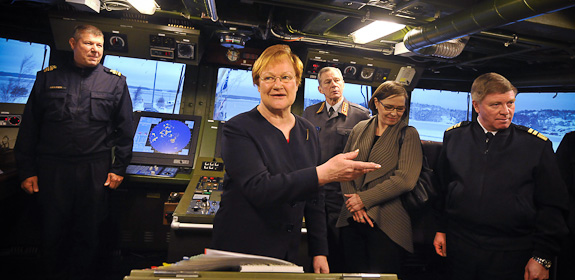 Lieutenant, Sr. Grade Lauri Nikkinen (left); President Tarja Halonen; General Ari Puheloinen, Commander of the Defence Forces; Secretary-General Päivi Kairamo-Hella; and Commander of the Navy, Vice-Admiral Juha Rannikko aboard the minelayer Pohjanmaa on 16 December 2010. Photo: Lehtikuva
President of the Republic Tarja Halonen, Commander-in-Chief of the Finnish Defence Forces, surveyed the minelayer Pohjanmaa at Upinniemi on Thursday, 16 December. The vessel is set to depart for Operation Atalanta, a crisis management operation of the EU. "The main task will be to protect World Food Programme shipments, while contributing to the establishment of increased stability," President Halonen said. The Pohjanmaa will set sail for the coast of Somalia in January.
The President said that Operation Atalanta, which has been the subject of careful preparation, will be the first of its kind for the Finnish Navy. Finland has an extensive coastline, and the operation will be a valuable experience in operating under a different set of conditions.
Broad international consensus
At the press conference held at Upinniemi, in Kirkkonummi, President Halonen pointed out that Atalanta is an entirely new type of international operation. "I find it extremely significant that the operation is backed by broad international consensus and cooperation. We will not be going it alone, even though each vessel has its own responsibilities," President Halonen said.
During the inspection visit President Halonen was given a tour of the vessel and she also met some of the personnel who will be participating in the operation.
The Commander-in-Chief was accompanied on the inspection visit by General Ari Puheloinen, the Commander of the Defence Forces, and Vice-Admiral Juha Rannikko, the Commander of the Navy.
Around 120 Finns will participate in Operation Atalanta, with the Pohjanmaa set to return to Finland in May 2011.
Photos